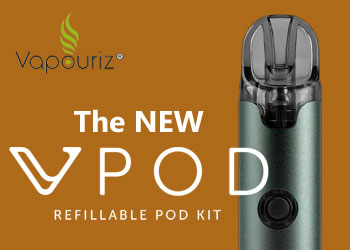 Are you looking for a new starter kit?
or is you current one not performing as well as it should? Maybe your fed up changing the clearomisers which never seem to last as long as they used to?
The new VPOD Refillable Kit from Vapouriz is a perfect choice if you're a new or an experienced vaper. The simple kit makes changing the POD's a quick and easy process whilst it maintains the quality.
It has a 1000mAh battery so you can expect a good amount of time before recharging it and its just 103mm x 19mm.
The kit can be used with a range of liquids including 50/50, nic salt and CBD eliquids producing maximum flavour with each vape.
We would recommend this kit to anyone who has moved from the discontinued Vivid hardware and have moved onto the 50/50 range which we would recommend in terms of the flavour being close to the Vivid Tobacco 11mg,18mg / Vivid Menthol Breeze 18mg flavours you was used.
Price wise the kit is just £19.99 and comes in 2 Colors; dark teal and rose gold and has everything to get you going including 2 VPOD Cartridges.
Do you have any questions about the VPOD starter kit? Please feel free to drop us an email with any questions.