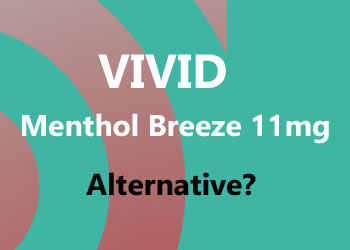 The bad news
is that Vivid Menthol Breeze in the 11mg is discontinued line and Vivid are longer making it although to be clear we still have a good supply of the 18mg in stock. Vivid has always had a loyal base of customers and we know when you have vaped a flavour for the last 5 years it becomes very hard to switch to something else.
So what now?
Recommendations can be very hard due to the fact that it often comes down to personal taste and any new liquid is never going to be the same. That being said we believe there is some very good alternatives and even at a cheaper price.
The Alternatives
Based upon what we have seen from people who vaped Vivid Menthol Breeze 11mg have moved to and from valuable feedback we have a few recommendations.
4. The bundle deal
As mentioned a lot of it comes down to the personal taste so we have created a bundle deal at a discounted price to allow you to try our range of menthol liquids at just £14.99 for 6 liquids it's a great place to start.

3. Vapouriz Millionaires Menthol 12mg
Millionaires Menthol has always been a popular liquid and has grown in popularity for its powerful blast of cool and fresh taste.

2. Debang Menthol 12mg

Menthol 12mg in Debang has become very popular choice and is great liquid for whatever the occasion. It is the most popular one we sell in the Debang range and is just £25 for 10 liquids.

1. 50/50 Vapouriz Double Menthol 12mg
A relatively new comer for eCigs Direct but has been well established on the market and by far the feedback has been that this is very similar to Vivid Menthol Breeze 11mg. Being a 50/50 liquid it means that it can be used in a standard vaping device and a sub ohm device.
You also make a saving on these liquids with 10 liquids for just £22.50 saving £7.50 on a bundle deal.