"Vaping has been endorsed by health experts after the first long-term study of its effects in ex-smokers," ITV News reports.
E-cigarettes contain nicotine but not many of the harmful substances produced by smoking tobacco, such as tar or carbon monoxide. However, there has been debate about exactly how safe their long-term use is.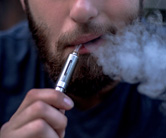 The study, involving 181 smokers or ex-smokers, has been described as "landmark" as it is thought to be the first (or at least one of the first) looking at long-term vaping outcomes in "real world" users. Previous studies of this kind have mainly relied on laboratory equipment, or animal research, to estimate the long-term effects of e-cigarettes.
There has been much discussion over the benefits of vaping over conventional smoking methods and this is the first long-term study assessing these effects. In general the findings have been reported accurately in the UK media; however none of the limitations, as described by the researchers themselves, have been mentioned.