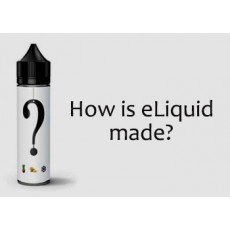 Do you ever stop to think about how your e liquid is made? What process does it go through before you then inhale? Well, your e liquid has actually passed through several hands and processes before it reaches you. With rise in popularity, e liquids are big business and must follow strict protocols like a well orchestrated orchestra.
How E Liquid Is Made
Currently, almost all vape juice is made through white label manufacturers at large facilities. This means that the manufacturer will produce the product without putting their own branding on it. Instead, they will produce either generic or specially-manufactured formulations according to the vape brands specifications. They will also use the vape companies packaging and branding to make the product tailored to the specific brand. Almost every bottle of e-liquid that you buy is actually made by a manufacturer that produces vape juice for many different brands.
This has pros and cons, with a major benefit being that all previous investment in formulas, recipes and technical specifications by the manufacturer have been through proper processing; and is therefore cheaper to adapt for smaller independent vape brands. This means you can buy fantastic, unique flavours at a reasonable cost.
White label manufacturers make it possible for smaller e liquid brands to get started in the industry even if they lack the resources or finances to start their own factories. A white label manufacturer has already invested the finances to build a clean room facility and handles quality control and product consistency.
Do Independent E Liquid Makers Still Exist?
Today, it is financially unfeasible for most e-liquid brands to vertically integrate themselves and produce their own vape juice. Offering product quality similar to what a white label manufacturer can offer would likely require an investment of millions of pounds.
An exception to this is Vapouriz, who own their own factory and also manufacture their other brands including Double Drip, Pocket Fuel & Pure Evil; all fantastic brands that we stock here at eCigs Direct! Vapouriz is one of the largest e liquid & e juice manufacturers in the UK, and have a state-of-the-art fully automated bottling plant which has a production capacity of over 2 million bottles of e liquid per month right here in the UK.
Flavour Warehouse, who manufacture Vampire Vape, also independently manufacture their e liquids onsite so that they can conduct blind taste tests and innovate quickly to meet market demand.
The bottom line is, many medium and large companies may manufacture themselves, whereas as vape start ups and smaller indie brands generally don't.
How E-Liquid Is Distributed
If the vape juice is produced at a white label manufacturer, it is then shipped to the brand. All brands, whether manufactured onsite or through white label manufacturers, will then wholesale it to vape shops and sell it direct to consumers online. Here at eCigs Direct, we buy from each vape brand direct on a wholesale scale. We do this to ensure we can pass the best possible price onto our customers.